China Chengtong and BGRIMM Group signed strategic cooperation agreement
Department of Strategic Development 2022-04-25
On April 22, China Chengtong and BGRIMM Technology Group (BGRIMM Group) signed strategic cooperation agreement at the Group's headquarters. Dai Xi, Deputy Chief of Bureau of Planning and Development of the State-owned Assets Supervision and Administration Commission of the State Council (SASAC), Zhu Bixin, China Chengtong's Secretary of the CPC Committee and Chairman, and Han Long, BGRIMM Group's Secretary of the CPC Committee and Chairman attended the signing ceremony. Tong Laiming, China Chengtong's Vice President, and Li Jianzhong, his BGRIMM Group counterpart signed the strategic cooperation agreement on behalf of each company. The ceremony was presided over by Wang Wenjun, China Chengtong's Vice President.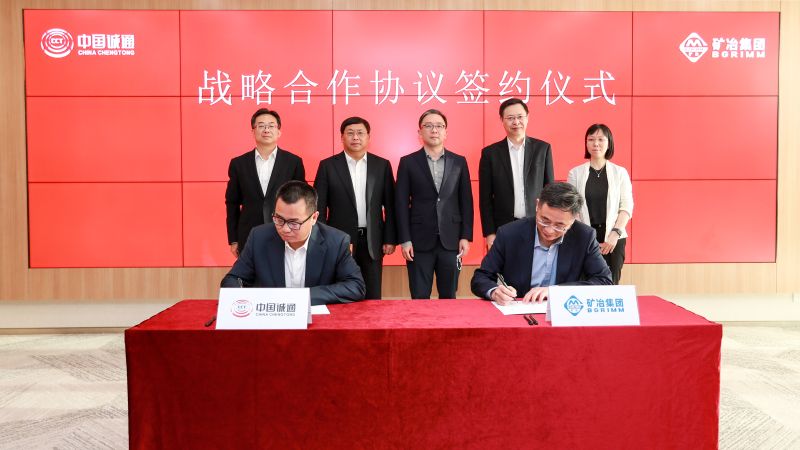 Zhu Bixin welcomed Dai Xi and Han Long. He introduced China Chengtong's history of development and noted that the Group is strengthening the building of capital operation platforms, which are fund investment, equity management, asset management and financial services, as well as improving the incubation platform for strategic emerging industries. Zhu hoped that the two sides could make full use of their respective advantages to strive for quality-oriented development.
Han Long extended his gratitude to China Chengtong for its trust in and support to BGRIMM Group, and introduced BGRIMM Group's business layout and development status. Han said that being a central SOE specialising in scientific research and design, BGRIMM Group would provide high-quality services to the whole industry through deepening reform and scientific and technological innovation. He hoped that BGRIMM Group and China Chengtong could establish an all-round strategic cooperation relationship to build up momentum for a shared future.
The two companies will take the signing of the strategic cooperation agreement as an opportunity to fully explore the cooperation needs and carry out practical cooperation in new energy field. As the implementation of the strategic cooperation between China Chengtong and BGRIMM Group, Tianjin Lishen Battery Joint-Stock Co., Ltd. and Beijing Easpring Material Technology Co., Ltd. signed cooperation agreement on site.
Relevant personnel from SASAC's Planning and Development Bureau, China Chengtong's General Office, Strategic Development Department and Tianjin Lishen, and BGRIMM Group participated in the ceremony.